Chemical reactions are happening in and around you every moment!
In Experience Chemistry Level C your high school student will dive deep into the study of chemistry and be introduced to a host of fascinating topics. We will start building your student's understanding of matter at the most basic level—with the atom! Throughout the year they'll explore chemical reactions and interactions, and how this captivating topic relates to all sciences. They'll learn how observing the structure and changes of matter reveal God's divine creativity and how every tiny detail has been created to sustain His creation.
This preview includes a video introduction to lesson 1, plus the full content of lesson 14 — so you can get a feel for how your student will experience the course!
Preview Lesson 1A (video component)
Welcome! What is Chemistry?
Want to see more? Let's go!
Tour lesson 14 of Experience Chemistry…
Download Student Pack
Each week students download their student packet which includes lesson outlines and lab instructions.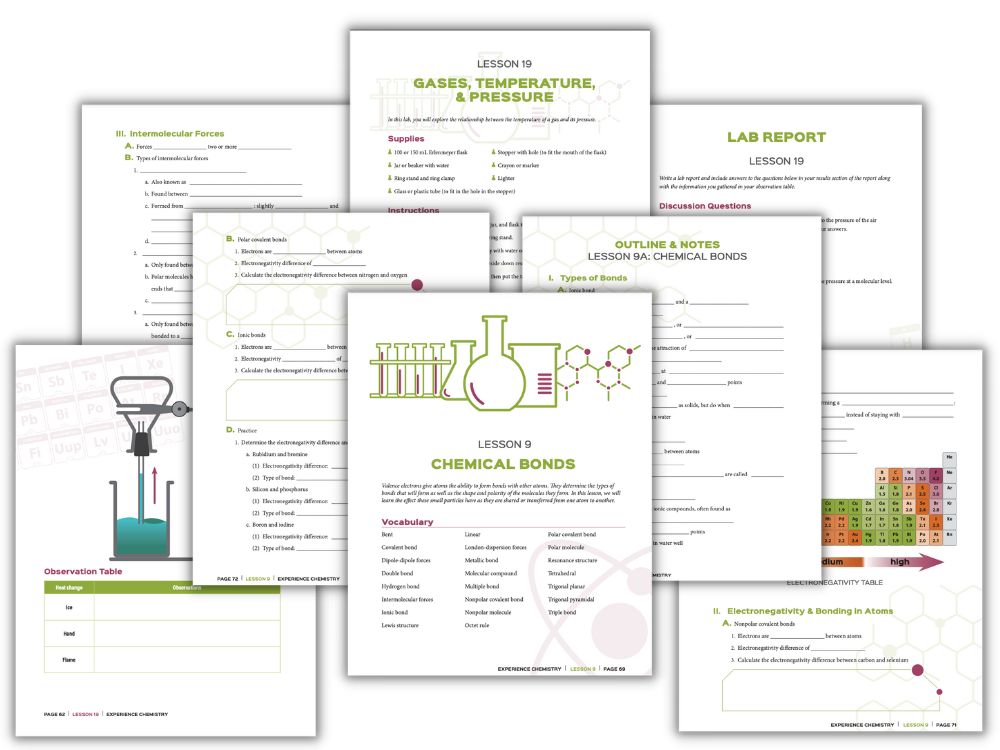 Watch Lesson 14A: Types of Reactions
Students have 2 lecture videos to watch each week. Watch Lesson 14A & 14B below.
Watch Lesson 14B: Types of Reactions
Our lessons focus on engaging your student in chemistry not just by sharing interesting and relevant facts, but integrating the lessons with other subjects like history and the Bible.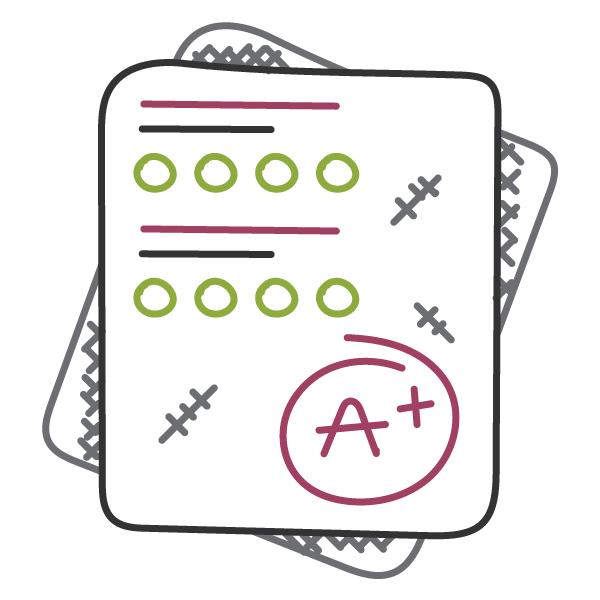 Comprehension Quizzes + Homework Questions
Each week students have an auto-graded comprehension quiz that tests their understanding of the materials. Students also have homework questions or practice equations to help them dig deeper into the material, prepare them for upcoming lessons, or review and reinforce difficult lecture topics. Download a sample of what the quiz & homework questions look like.
There's no need to worry if your student gets stuck when balancing chemical equations or solving tricky math questions! We have videos to walk you through the homework questions that involve math equations step-by-step. Check out the homework help videos that correspond with lesson 14 below.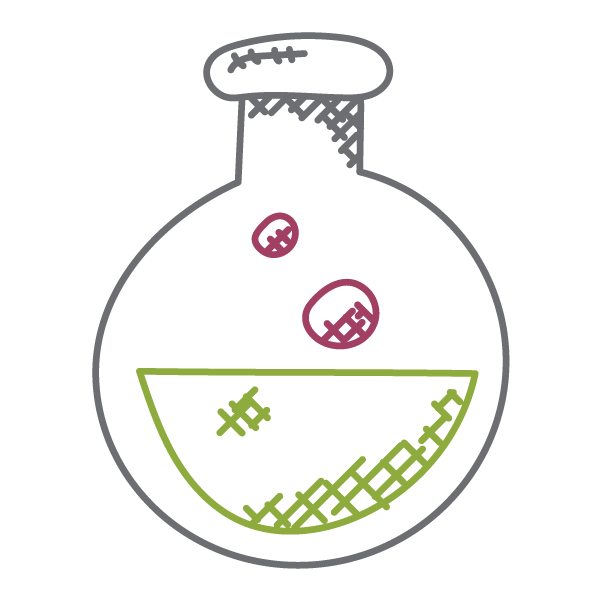 Watch Lab Video & Complete Lab with Report

Most weeks students have a lab that reinforces the concepts they're learning in class and gives them a hands-on learning opportunity. Students watch the lab video, complete the lab, and write up a lab report (don't worry, we'll teach them what should be in their lab report at the beginning of the year).
Watch Lesson 14 Lab Video
Supplemental Lab Videos
We also provide supplemental lab demonstration videos to go along with some of the labs in this course — labs that require a number of chemicals that may be cost prohibitive for some families to purchase. We want to give an option to families who want to have their students participate in these labs and write the lab reports but are not able to obtain the necessary supplies.
Watch the Supplemental Lab Video for Lesson 14
Experience Chemistry
(Level C)
$ 279
/

or pay in 3 monthly installments
35 weeks of engaging video lessons — 2 videos with every weekly lesson

Lab Manual with weekly laboratory experiments and activities*

Student Guidebook with fill-in-the blank outlines and study guides*

Weekly research questions or practice equations to deepen understanding of scientific concepts

Weekly comprehension quizzes

Exams to gauge your student's understanding

Lab videos to walk your student through laboratory exercises

Optional reading assignments from Modern Chemistry

Course guide

Certificate of completion

Start anytime and get 12 months of access

Payment plans now available!
Generous multi-student discounts available!
*Lab & Activity Manual and Student Guidebook are provided as a pdf download with the purchase of the course.