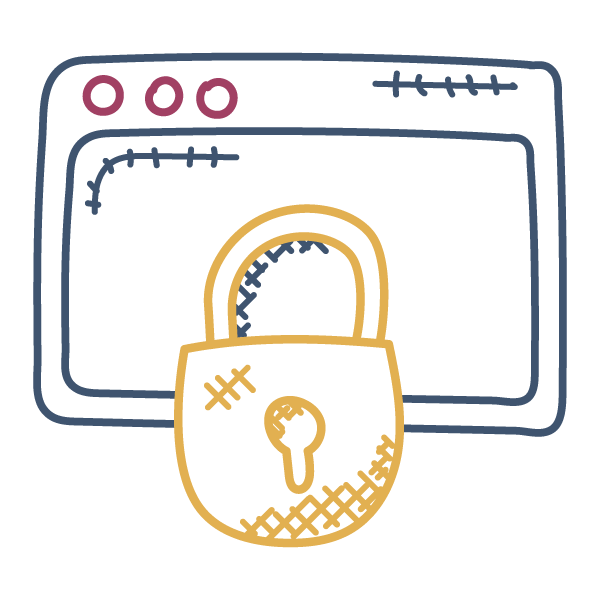 By visiting Journey Homeschool Academy you are agreeing to the terms and conditions.
Overview
Journey Homeschool Academy is a business of Intoxicated on Life, LLC. We are committed to protecting your privacy online. This Privacy Policy describes the personal information we collect through this website at journeyhomeschoolacademy.com (the "Site"), and how we collect and use that information.
The terms "we", "us" and "our" refers to Intoxicated on Life LLC (doing business as Journey Homeschool Academy). The term "user," "you" and "your" refers to site visitors, customers and any other users of the site.
The term "personal information" is defined as information that you voluntarily provide to us which personally identifies you and/or your contact information, such as your name, phone number and email address.
We provide a site where users can purchase and take online courses (the "Service").
Use of journeyhomeschoolacademy.com, including all materials presented herein and all online services provided, is subject to the following Privacy Policy. This Privacy Policy applies to all site visitors, customers, and all other users of the site. By using the Site or Service, you agree to this Privacy Policy, without modification, and acknowledge reading it.
FTC Disclosure Statement
At Journey Homeschool Academy, the privacy of our visitors is of extreme importance to us. This privacy policy document outlines the types of personal information that is received and collected by Journey Homeschool Academy and how it is used.
As the owner of this website we have the full intention to be compliant with the Federal Trade Commission (FTC) rules about the use of testimonials and endorsements in advertising and marketing. If you have a question about whether or not we're connected with anything we promote or endorse, please contact us.
We are not responsible for republished content from this blog on other blogs or websites without our permission.
Information We Collect
Product Orders:
We collect a variety of personal information with each product order. This includes:
Your name, address, email address and phone number:
This information is shared with our e-commerce software providers to ensure the delivery of your order. We use your email to communicate with you about your order and to manage our customer relationship with you. When you place an order you may be added to our mailing list from which you can unsubscribe at any time using the unsubscribe link in each email or by contacting us at info(at)journeyhomeschoolacademy.com.
Your payment information:
We collect payment information for each order. Your payment information is securely communicated to and processed via our e-commerce software providers.
All personal information collected for an order is used for the fulfillment of that order and to manage our customer relationship with you.
Activity:
We may record information relating to your use of the Site, such as the searches you undertake, the pages you view, your browser type, IP address, requested URL, referring URL, and timestamp information. We use this type of information to administer the Site and provide the highest possible level of service to you. We also use this information in the aggregate to perform statistical analyses of user behavior and characteristics in order to measure interest in and use of the various areas of the Site.
Cookies:
We may send cookies to your computer in order to uniquely identify your browser and improve the quality of our service. The term "cookies" refers to small pieces of information that a website sends to your computer's hard drive while you are viewing the Site. We may use both session cookies (which expire once you close your browser) and persistent cookies (which stay on your computer until you delete them). You have the ability to accept or decline cookies using your web browser settings. If you choose to disable cookies, some areas of the Site may not work properly or at all.
Log Files
Like many other Web sites, Journey Homeschool Academy makes use of log files. The information inside the log files includes internet protocol (IP) addresses, type of browser, Internet Service Provider (ISP), date/time stamp, referring/exit pages, and number of clicks to analyze trends, administer the site, track user's movement around the site, and gather demographic information. IP addresses, and other such information are not linked to any information that is personally identifiable.
Third Party Links
The Site may contain links to third party websites. Except as otherwise discussed in this Privacy Policy, this document only addresses the use and disclosure of information we collect from you on our Site. Other sites accessible through our site via links or otherwise have their own policies in regard to privacy. We are not responsible for the privacy policies or practices of third parties.
Amazon.com
Journey Homeschool Academy is a participant in the Amazon Services LLC Associates Program, an affiliate advertising program designed to provide a means for sites to earn advertising fees. We get paid a commission for each item you purchase in a session on Amazon.com when you click through an Amazon widget or link on my site. This is a part of the normal Amazon.com affiliate program.
How to Update Your Information
If you opt-in to our mailing list, the option to unsubscribe will be included in every email. You may also access and correct your personal information and privacy preferences by contacting us with your request at info(at)journeyhomeschoolacademy.com.
Use of Experience Biology and Experience Chemistry
Journey Homeschool Academy has been using Experience Biology since 2017 and Experience Chemistry since 2021. Savaas Learning Company LLC trademarked the name Experience Biology in 2022 and Experience Chemistry in 2021.
We have entered into a coexistence agreement them.  This is a notice that Experience Biology and Chemistry are registered trademarks of Savvas Learning Company LLC – see www.savvas.com. Journey Homeschool Academy has no affiliation or association with Savvas Learning Company.
***
This privacy policy is subject to change without notice and was last updated on March 21, 2023. If you have any questions feel free to contact us directly.