If you're like most of us homeschool parents, you start the school year thinking that this year will be different! This year, you'll stay organized. You'll plan ahead each week, and you'll never fall behind on this plan, come hell or high water.
But a couple of weeks into the new plan, something happens. All your color-coding and carefully-written lesson plans have been laid to waste. You're exhausted just thinking about another week of homeschooling.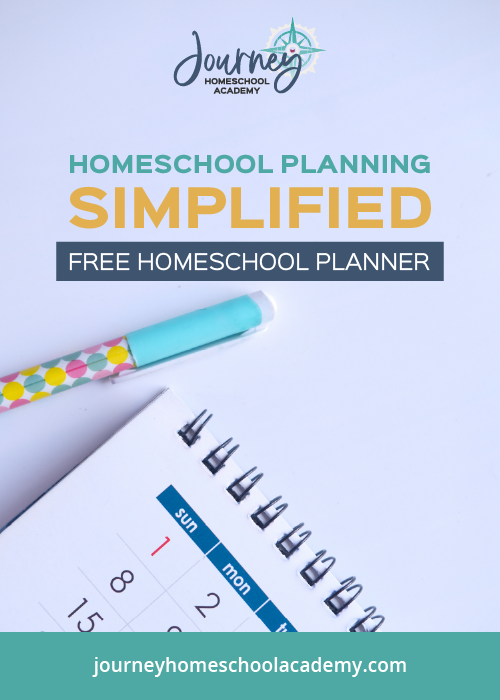 All the planner options available on the market today can lead to bewilderment. Do you want a paper planner or an online planner? Do you need chore checklists? Should your grocery list be in the same place as your lesson plans? What about your homeschool supply lists? How in the world are you going to manage all these lofty goals?
Don't worry – Journey Homeschool Academy has your back! Today we're sharing our simple tips to help you get organized for homeschooling.
PLUS you can download our free homeschool planner below to make planning out your days, weeks, and years easy peasy!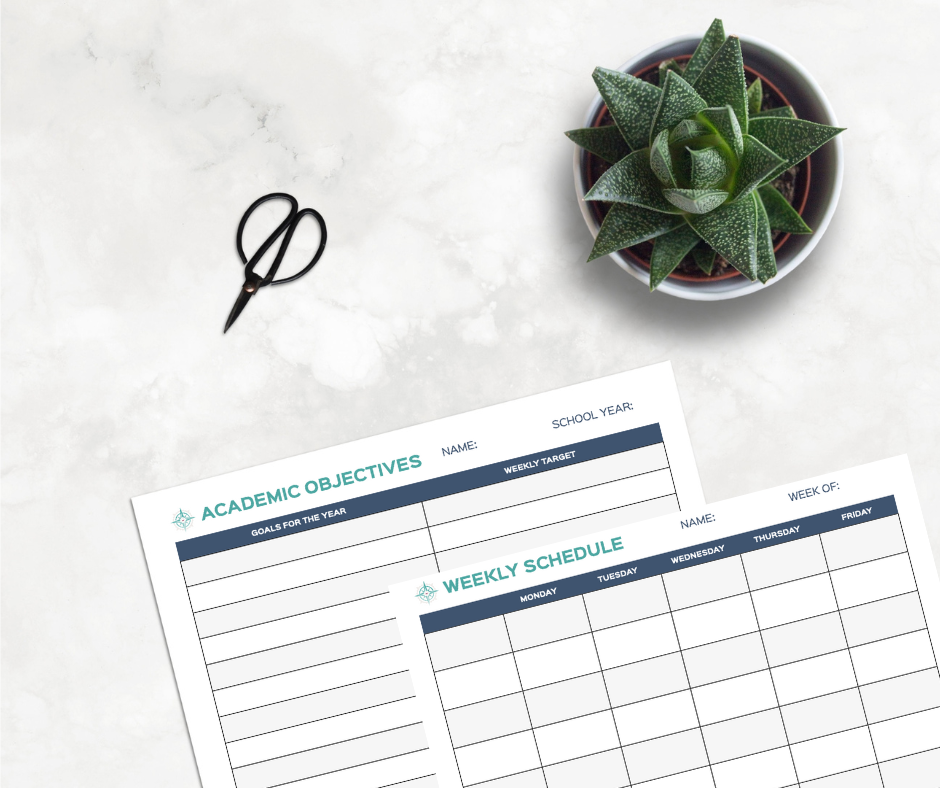 What Is a Homeschool Planner?
A homeschooler planner is anything you use to stay organized for homeschooling! It can be as simple as a single sheet of paper. But it can also be as complex as you wish. We prefer to keep it simple, though, since we know that complicated plans go wrong more quickly! And unlike many of the "ultimate" homeschool planners out there, this one can help you, regardless of your educational goals for your kids.
How To Plan Out Your Homeschool Days, Weeks, and Years
While it's not strictly necessary to use a planner for homeschooling, it can certainly help to keep you on track! Here are a few ideas to help you start off a new school year with ease.
Define Your Goals for the Year


Start by looking at the entire year as a whole. Talk with each child, and decide together what subjects they need to master, and where you'd like them to be academically at the end of the school year. Make a list of subjects they'll be learning: include basics like math, reading, science, and handwriting. But be sure to include fun activities like art or music if those are a part of your year as well.
Break It Down by the Month and Week
Next, figure out how many months or weeks are in your school year. This freedom is part of the beauty of homeschooling: you can plan for 32 or 36 weeks, or you can break up your plans into eight, nine, or 12 months. If you plan to take a longer break for Christmas or spring break, take that into consideration as well.
What do you need to accomplish each month or week in order to reach your goal by the end of the school year? How many books do you need to read? What kind of math goals do your students need to accomplish each month?
Break It Down by the Day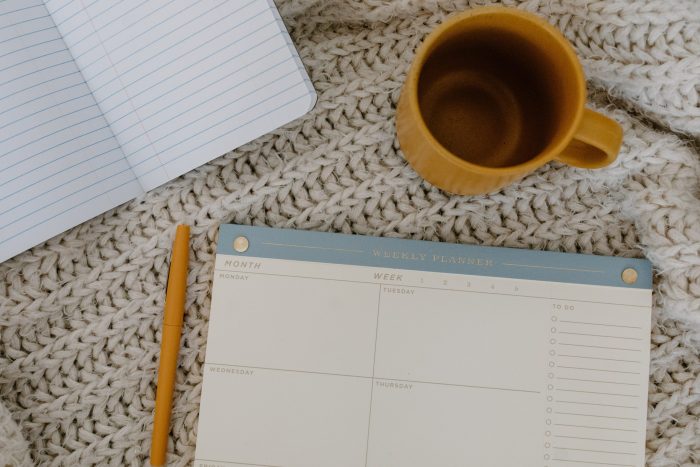 How many school days would you like to complete each week? For older children, this will likely be four or five days per week. But if you're dealing with preschool- or kindergarten-age children, your target number might be closer to two or three.
Not all subjects require attention every day. Do you want your child to complete three math lessons per week? Read aloud for 30 minutes every day? Is there a subject that your child struggles with, and you'd like to give it special attention a few extra days per week? Don't forget to include music or other extracurricular practice.
By subdividing your school year intentionally in this way, you'll save yourself the panic we've all felt at the end of the year when we realize we're nowhere near our goals!
Download Our Free Homeschool Planner!
This simple homeschool planner will help you plan out your homeschool days, weeks, and year. The printable is an editable PDF so you can use it digitally or print and use a good ole' fashioned pen or pencil to do your planning!

As you begin thinking about the school year, we would love to share a copy of our free PDF homeschool planner with you! You can use this document alongside your traditional planner or in its place. And it works regardless of which method of homeschooling you prefer! Sign up below with your name and email address, and we'll send you a copy of our fully customizable homeschool planning pages. You'll also be the first to know about upcoming offers and courses that we release in the future.