Feeling a bit lost about the best way to teach science to elementary-level homeschoolers? You aren't alone. It's not exactly a "fun" task to figure out what curriculum to choose and how to best help your young student learn.
But never fear!
Science is a fantastic teaching subject for lower grade levels because science is fascinating!
Not only that, but teaching elementary science is a great way to incorporate your family's Christian foundation into homeschooling. Learning about the creatures and plants of the earth and how God made each one can leave a lasting impact on your homeschooler.
So hopefully you're now feeling a bit better about teaching homeschool science. Now, let's make the selection process a little easier for you…
What makes a good elementary homeschool science curriculum?
A good science curriculum is one that works best for your family. However, you are here because you aren't sure what curriculum is the best fit for your family. That being said, here are six elements (in no particular order!) that make up a strong elementary science course.
1. Engaging
You may have never heard your student say, "School is fun!!!", but what if it could be fun? Science is one of the "most fun" subjects. There's such a wide range of topics to study, and the majority of them can be supplemented by the great outdoors!
An engaging science curriculum will encourage your elementary student to learn because they will actually enjoy science. An engaging curriculum will go beyond the textbook and utilize experiments, real-life examples, videos, and more to spark your child's interest engaging them in the learning process.
2. Bible-based
When searching for a Christian science curriculum, it's important that the "Christian" part of the curriculum is Bible-based. The Bible does, after all, tell us about the creation of the world and the Maker of it all! Your science curriculum doesn't have to be preachy or mention God in every other sentence, but it is important that what is taught can be tied back to Biblical truths. 
A curriculum that interweaves these truths where they naturally fit will help point your children to the Creator of the universe and leave them in awe of Him. 
3. Hands-on Learning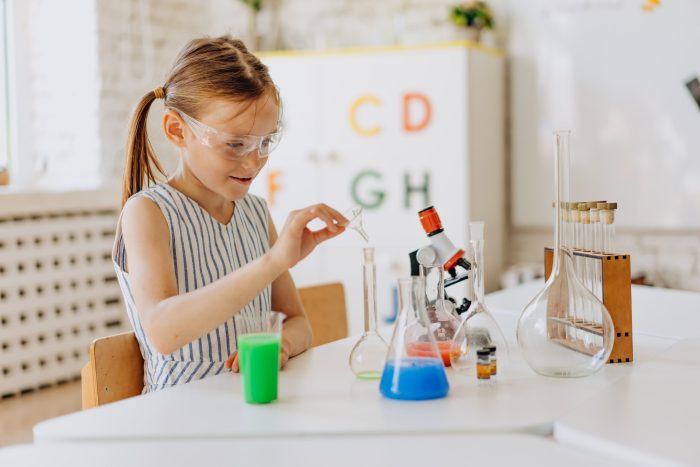 No elementary student (well, at least none that I know) learns best by reading a textbook for an hour and calling it a day. At an age when the brain is developing at a rapid rate, elementary-age children can basically feel the learning happening through hands-on activities. And, science offers endless opportunities for learning that can be touched, smelled, seen, heard, and maybe even tasted! A solid science curriculum will not only encourage hands-on science but will also incorporate it directly into the curriculum itself.
4. Flexibility for the Teacher
As a homeschool teacher, you probably already know the need for flexibility in homeschooling. There will be days when you're sick or just want to call it a snow day, and this is one of the best parts of homeschooling! A good curriculum will give you the flexibility that perhaps led you to choose homeschooling in the first place.
5. Incorporation of Memory Work
Memorizing key concepts is important for elementary learning because it will build a foundation for the knowledge that is taught in middle school, high school, and beyond! Consistent quizzing and testing are great ways to promote memory work, but for elementary students, other forms of memorization may be even more beneficial. These can include flashcards, memory games, and songs. Regardless of how your student memorizes best, using a curriculum that promotes memory work will further knowledge in the long term.
6. Living Books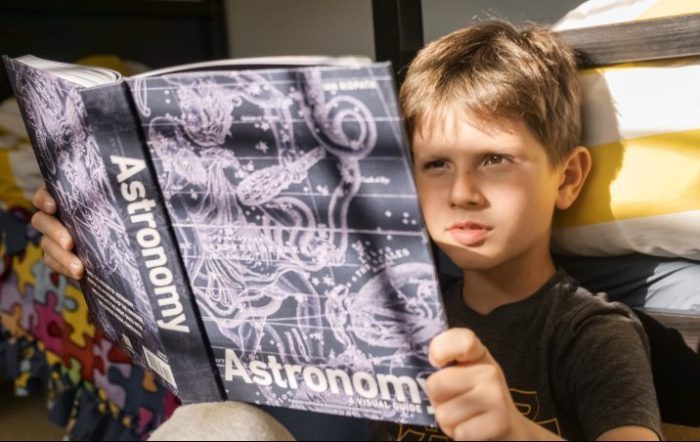 If you're unfamiliar with living books, now is a great time to learn! While textbooks state the facts without any fluff, living books incorporate stories and personal experiences into learning. They are typically written by someone who has direct experience with the topic and a passion for teaching it. Living books go beyond memorizing facts (though this is important – see the key element #6!) and draw the reader in with a science-based story full of both facts and memorable encounters.
Elementary Homeschool Science Curriculum Options
Now that we've addressed what makes a good elementary homeschool science curriculum, it's time to look at the many options available! Let's do a side-by-side comparison, and hopefully, this will help you nail down just which curriculum works best for your homeschool family.
Master Books
The God's Design series is an elementary science curriculum highlighted for its all-in-one book style. Although there is no online teaching (including no videos), the Master Books course seems to be a great option for homeschoolers looking for a simple, easy-to-use elementary science course. It is one of the more heavily Bible-based courses out there, and aside from the Bible and the main student workbook, there are no other supplemental books required.
This curriculum implements quizzes and tests, worksheets, and fun educational activities and challenges to promote knowledge retention. The curriculum provides a recommended 4-day schedule to work from.
Biblical worldview: YES
Engaging video lessons: NO
Living books: NO
Hands-on activities: YES
Quizzes: YES
Memory work: NO
Flexible schedule: NO
Core textbook: YES
Journey Homeschool Academy
Journey Homeschool Academy elementary courses were designed with two important elements in mind: fun and easy! Our curriculum is one of the few that combines online video lessons with supplemental living books to promote both student independence and parent involvement. At Journey Homeschool Academy, we rely very little on textbooks because we believe (and have seen from experience) that hands-on learning is the best way to bring science to life.
The flexibility of the pre-recorded videos makes Journey Homeschool Academy a great option for busy schedules. While this class acknowledges God as the creator of the universe, it does not get into concepts about the age of the universe or scientific theories about the beginning of the universe.
Biblical worldview: YES
Engaging video lessons: YES
Living books: YES
Hands-on activities: YES
Quizzes: YES
Memory work: YES
Flexible schedule: YES
Core textbook: NO

Noeo Science
Noeo Science is best described as an all-in-one science box. When you order the curriculum, you will receive a large "variety" box filled with just about everything you could need for your science course—books, lesson plans, experiments—excluding basic lab items you find around the house.
Living books are a huge part of Noeo curriculum, but there are no videos or online courses. In addition, Noeo does not offer tests or routine memorization due to its philosophy on learning and long-term retention. The curriculum allows for flexible scheduling with 2-day and 4-day options.
Biblical worldview: YES
Engaging video lessons: NO
Living books: YES
Hands-on activities: YES
Quizzes: NO
Memory work: YES
Flexible schedule: YES
Core textbook: NO
Elemental Science
The Classical Science Series from Elemental Science adheres to the classical learning approach. Its primary reading source is children's encyclopedias, rather than living books or textbooks. This curriculum implements quizzes and review sheets to encourage knowledge retention, in addition to vocabulary and memory work. The course allows for a 2-day or 5-day schedule and combines reading, writing, and hands-on learning for a trifold style of learning.
Because of its classical approach, this elementary curriculum does not supplement with online teaching or videos. It does, however, include scripted scientific demonstrations and STEAM activities!
Biblical worldview: YES
Engaging video lessons: NO
Living books: NO
Hands-on activities: YES
Quizzes: YES
Memory work: YES
Flexible schedule: YES
Core textbook: YES
Apologia
Apologia's Young Explorer series was designed around the idea that children learn in many ways and the courses were designed to support those different learning styles. The main textbook is written in a conversational tone and invites the student into the scientific conversation, rather than talking "at" the student.
Along with hands-on learning activities, Apologia incorporates the use of a notebooking journal, giving students a place to record experiment observations and draw conclusions, along with additional worksheet activities for the lesson. However, tests and quizzes are not utilized in the Young Explorer series. The curriculum can be completed in as few as two days a week but is flexible enough to be adapted to your homeschool goals.
Biblical worldview: YES
Engaging video lessons: NO
Living books: NO
Hands-on activities: YES
Quizzes: NO
Memory work: NO
Flexible schedule: YES
Core textbook: YES

Berean Builders
On the elementary level, Berean Builders focuses on discovery and observation and uses history as its guide with the course covering science as it was developed. Every lesson has a hands-on activity or experiment and after the activity, the textbook guides the students through what was observed or experienced. The course is designed so every student in your family (K-6) can participate in the lessons; there are even three "age" levels of review guides to allow the parent to choose the depth of learning for each student.
The course creator prefers that older students create their own notebooks to accompany their course, but he also provides a printable version for those who wish to have something premade. The curriculum is compromised of 90 lessons (6 units containing 15 lessons, 3 of which are optional "challenge" lessons), allowing students to complete the course in a year by completing a lesson every other day.
Biblical worldview: YES
Engaging video lessons: NO
Living books: NO
Hands-on activities: YES
Quizzes: NO
Memory work: NO
Flexible schedule: YES
Core textbook: YES
Christian Kids Explore
Christian Kids Explore is a five-book series that can be used for students of all ages but seems most appropriate for students in grades 3-6. There is one main textbook for each topic, but also recommends supplemental videos, living books, and hands-on activities to enrich the learning experience.  Additionally, each course has an optional literature guide with written assignments and activities if you wish for your student to tie language arts into their scientific study.
Each book in the series has 30 lessons that can be taught in two 90-minute sessions a week or can easily be broken down into smaller increments if needed. Each unit in the course contains a quiz, vocabulary words, and scripture memory cards.
Biblical worldview:  YES
Engaging video lessons: NO
Living books: YES
Hands-on activities: YES
Quizzes: YES
Memory work: YES
Flexible schedule: YES
Core textbook: YES

You can teach elementary science!
I love homeschool curricula because each one is so unique! And yet, they all have one thing in common: make homeschooling feasible for you. If your curriculum isn't encouraging you in your homeschool journey, then what is the point, right?!
We included bullet points highlighting specific aspects of each listed curriculum. Some, as you've learned, emphasize reading; others take the hands-on or online route. As you read through each list, be thinking about what you desire for elementary science. Does a specific curriculum check all of your boxes? 
Click the button below this post to check out a free lesson of any of our courses at Journey Homeschool Academy. Gather the kids around and enjoy learning about God's creation. Then you can check science off for the day ✅.