You don't need to live near a beach to teach your kids about the ocean and the beautiful creatures and habitats that exist below the water's surface. With these ocean activities, your elementary student can deepen their knowledge of biology while having a ton of hands-on fun. So, let's dive right in—pun intended!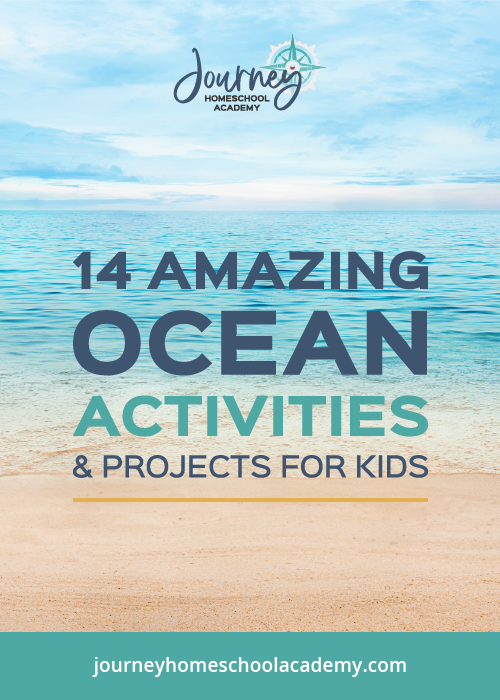 14 Ocean Activities and Projects for Kids
1. Ocean Sensory Bin
Sensory play is a great way for preschoolers and younger students to learn a concept in a hands-on way. Sensory bins don't come with instructions because you get to make them with whatever you want. All you need is some sort of plastic bin, and the rest is up to you and your child's imagination. For ocean-themed sensory bins, we've put together a list of recommended items for ocean biology learning:
Water (if you have food dye, try dying it blue)
Sand
Shells
Small plastic ocean creatures (starfish, sea turtles, fish, etc.)
Glass mosaic stones
Fake ocean plants (easily purchased at a pet/fish store)
2. Saltwater Density Experiment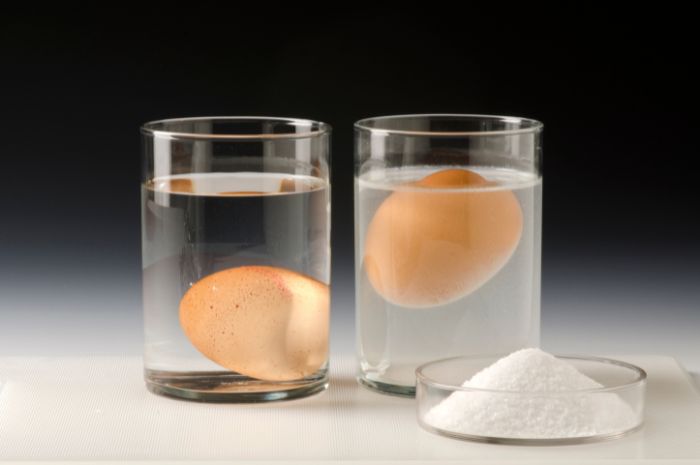 This super easy activity demonstrates how salt affects the density of water and objects that are placed in that water. With just a few simple kitchen items that you likely already have, kids will be able to see with their own eyes just how adding salt to water can change how items react when placed in the water.
3. Blubber
If your child has ever swam in the ocean, they probably noticed right away that it is cold! So, how do sea creatures live in the ocean and stay warm? This fun ocean activity demonstrates how blubber (a really thick fat layer) keeps whales warm while in ice-cold water.
4. How Do Fish Breathe?
This downloadable activity is part of Experience Biology Elementary, our elementary biology curriculum at Journey Homeschool Academy. Using a few basic craft supplies (paper, scissors, an envelope, etc.), your elementary student can cut, glue, and draw their way to learning about how fish breathe underwater. (This is also a great intro to using fine motor skills in younger students.)
5. Learning About Ocean Layers
From the surface, the ocean looks like a giant body of regular old water. And while it is made up of so much water, there are actually many intricate layers to the ocean. Take your child to your local hardware or paint store, pick out a few paint chip samples (hint: they're free!), and head home to put together a visual aid for the layers and zones of the ocean.
6. Visit Your Local Pet Store or Aquarium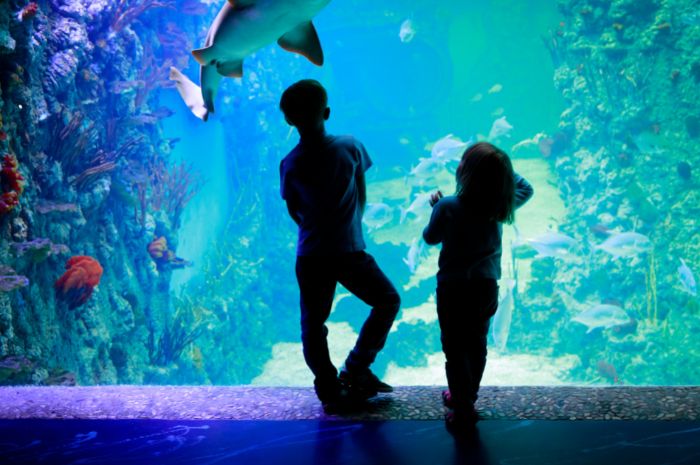 Hop in the car with a notebook and some colored pencils and visit your local pet store or aquarium. There you will be likely to find a wide array of beautifully colored fish, each in a unique aquarium habitat. Encourage your child to draw their favorite fish (or two) and describe the environment that each fish is living in. This is also a great opportunity for older children to glean ideas for an ocean research project.
7. DIY Jellyfish Craft
Finally, a jellyfish that you can touch! This craft is a fun way to help your student better understand how jellyfish move in the ocean.
Then, while they're assembling their jellyfish, you can make jello as a fun treat. Why jello? Well, the texture of jello is very similar to that of a jellyfish—almost completely made up of water.
8. Ocean SLIME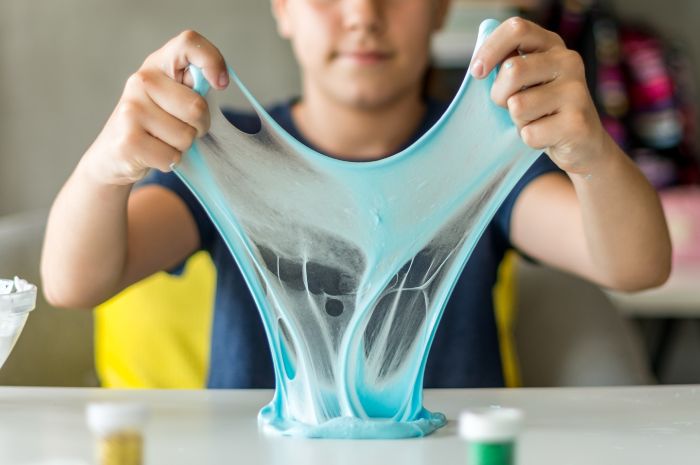 Slime—it's all the craze in kids these days. Follow this recipe to make sparkly blue ocean slime that will be sure to attract preschoolers and elementary students alike. Add a few plastic ocean creatures or real shells to mimic an ocean habitat and your child will be in sensory heaven.
9. Ocean Diorama Project
For older elementary students, this ocean diorama project is a great way to put their artistic skills and science knowledge to work. With just their creative imaginations and some basic craft supplies, your student(s) will be able to put together their own ocean aquarium. Follow along with the YouTube video for step-by-step instructions.
10. The Magic School Bus Rides Again: Exploring Oceans
Although we all love DIY ocean activities, sometimes it's fun to purchase a kit that's ready to use. This Magic School Bus-themed STEM kit is a great place to start. In addition to providing the supplies needed, this kit also comes with a parent manual to help you guide your child through the kit and receive an excellent (and fun) learning experience.
11. Ocean Habitat Project (for Pre-K and Kindergarten)
This creative project lets younger students pick a fish or sea creature to study and then create the ideal habitat for their chosen creature. Some might choose the ever-popular shark or whale, but you may be surprised by other choices and how unique they are. Oftentimes, kids are so much smarter than we even realize and have pretty amazing imaginations that will make this project extra fun.
To expand this project for older elementary students, we recommend adding a written portion to the project. So, after they create their ocean habitat, they write a paragraph or page about their project and describe the habitat they created.
12. Draw a Life-size Blue Whale
Picture books don't often emphasize just how big blue whales are. (Hint: They're up to 100 feet long!) With a tape measure, some sidewalk chalk, and a large, paved area (your driveway works great!), you and your student can draw a life-size blue whale and awe at the size of the largest mammal in the world.
13. Can the Ocean Freeze?
Fresh water freezes at 32 degrees Fahrenheit. Salt lowers this freezing point, which is why we've seen plenty of frozen ponds and lakes, but not a frozen ocean! To better explain this concept to your child, try out this saltwater activity.
14. How Sharks Float
How is it that a 2,000-pound fish can float in the ocean?  This science experiment will help your student to understand just how this works and explains three key features that contribute to a shark's ability to float, regardless of its size.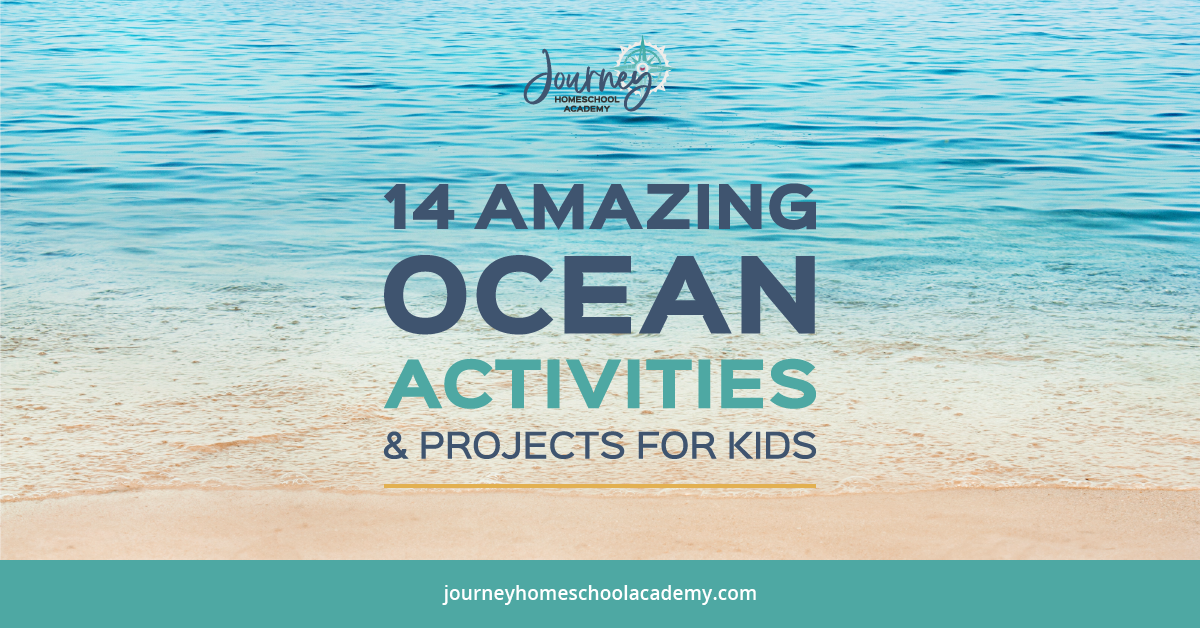 Experience Biology With More Ocean Activities
At Journey Homeschool Academy, we understand the importance of hands-on learning. It's why our science curriculum offers more than just a lesson plan and reading assignments. In addition to these, we also provide:
Engaging video lessons
Memory work and copy work
Student-led activities and experiments
…and much more
We love biology and everything that comes with it—ocean activities included—and that's why we're so passionate about making sure your elementary student loves it, too. Experience Biology Elementary is just the start of your students' newfound love for the ocean and all of the incredible creatures below the water's surface.