Field trips are great fun. But maybe you live in an extremely rural town that doesn't have many options for field trips. Perhaps travel restrictions won't allow you to travel to walk the Great Wall of China. And let's face it: budget constraints just don't always permit us to hop on a plane to New York to see the Metropolitan Museum of Art or tour Ellis Island. And as much as we might love it, we just can't take a stroll on the surface of Mars yet.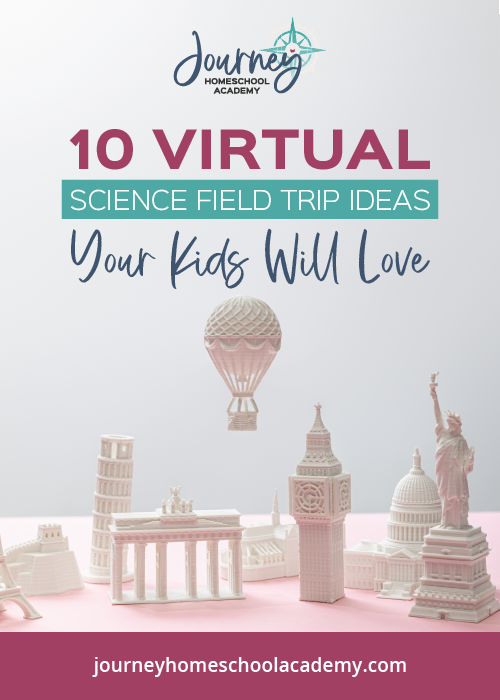 Why Should You Take Homeschool Field Trips?
We love using books to teach science (and every other subject). But the hands-on application of book knowledge helps our kids retain the information. The "reading + video + hands-on experience" formula we use at Journey Homeschool Academy ensures that children with all learning styles are able to benefit from our courses.
A field trip allows you and your children to experience various aspects of science, history, art, and culture in ways that you don't normally encounter in your everyday life. Field trips for kids can shake up their routine and provide wonderful jumping-off points for discussion. Exploring the world may even lead your children to develop new hobbies and interests.
Why Virtual Field Trips?
Travel is wonderful, and we encourage educational travel whenever possible! But when travel for discovery and education isn't possible, virtual field trips are here to save the day.
Since the beginning of the COVID-19 restrictions in March of 2020, many museums, zoos, and even parks have made it possible to experience virtual tours of their property. Several destinations have live video tours on a regular basis as well.
10 Virtual Science Field Trip Ideas Your Kids Will Love
This list is only the tip of the iceberg of available virtual field trips focusing specifically on science. Typing the name of your desired tour destination plus "virtual tour" into Google will yield a wealth of results in many cases. The options are truly endless!
1. Tour the Shadowy Forests in Finland
UPM Forest Life's website allows viewers to learn more about forestry through an interactive experience. If you stay on the prerecorded paths, you can click to learn more about each bird you hear or bug you see. You can also select a specific topic to learn about, such as picking mushrooms or a specific species of plant or animal.
2. Take a Hike at Yellowstone National Park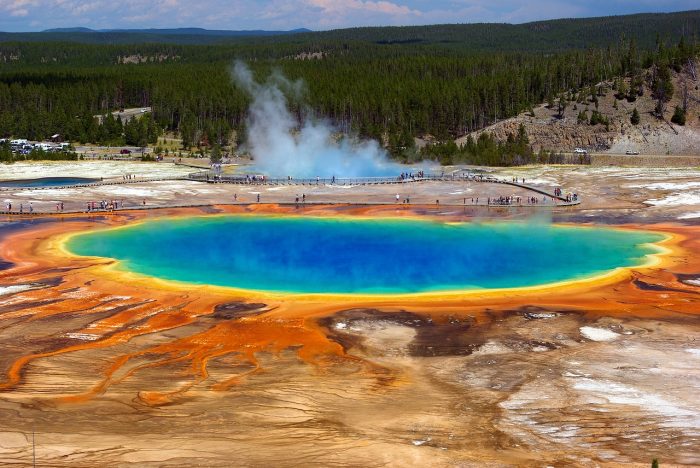 There's no substitute for actually standing in Yellowstone and experiencing its wildlife and beauty for yourself. But the National Park Service has filmed many virtual walking tours of Yellowstone if you're not able to visit in real life. You can watch hikes to Dragon's Mouth Spring, Lookout Point, and the Upper Falls at their website.
3. National Geographic Tours
Known for their National Geographic has a ton of options for homeschool virtual field trips. You can learn more about the oceans and even the solar system.
4. Walk on the Surface of Mars
If you ever feel like escaping the world altogether, maybe a stroll on the surface of the planet Mars is exactly what you've been looking for! NASA's Curiosity Rover has captured hundreds of thousands of pictures during its time on the red planet. All these images have been sent back to the NASA team, who compiled them to provide an immersive experience for us today.
5. Tour the Goddard Space Flight Center in Maryland
NASA's work involves earth science, astronomy, heliophysics, and many other disciplines. The Goddard Space Flight Center in Greenbelt, Maryland, offers an online tour. Taking a virtual tour even allows visitors to venture into spaces they wouldn't be allowed in real life for sanitation reasons, like the clean rooms.
You can also tour the International Space Station!
6. Explore Coral Reefs in the Bahamas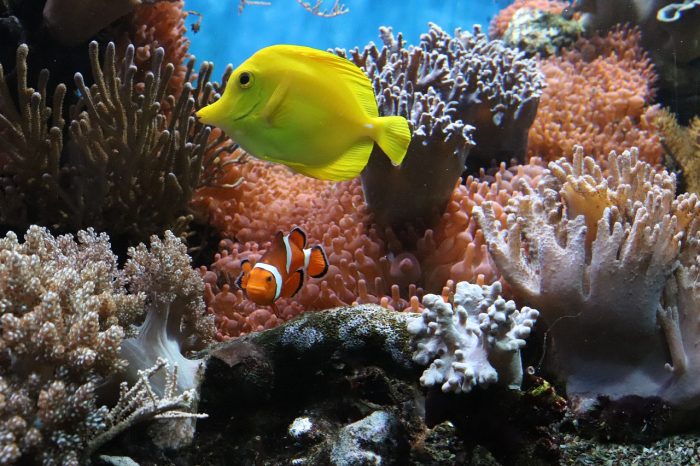 The Bahamanian coral reefs are beautiful and teeming with life. Without even paying to rent a snorkel and SCUBA suit, you can explore the depths of the ocean and the biodiversity of the Bahamas. Learn about the lionfish, butterflyfish, and coral bleaching.
7. San Diego Zoo
The San Diego Zoo in California offers an interactive group tour with guides, but at $225, that's cost-prohibitive for many! Fortunately, you can view many of their animals on live cams, where they stream their animals' daily adventures for you to enjoy. You can watch their platypi play, observe hippos digging in the mud, or watch the penguins scamper about. Many other San Diego Zoo animals are on live cam as well.
8. National Museum of Natural History
The Smithsonian's Museum of Natural History in Washington, D.C., offers a wealth of virtual tour resources. In addition to current exhibits and permanent exhibits, you can also explore past exhibits that can't be visited in real life anymore, like a fossil exhibit, a dinosaur exhibit, and a narwhal exhibit.
9. Grand Canyon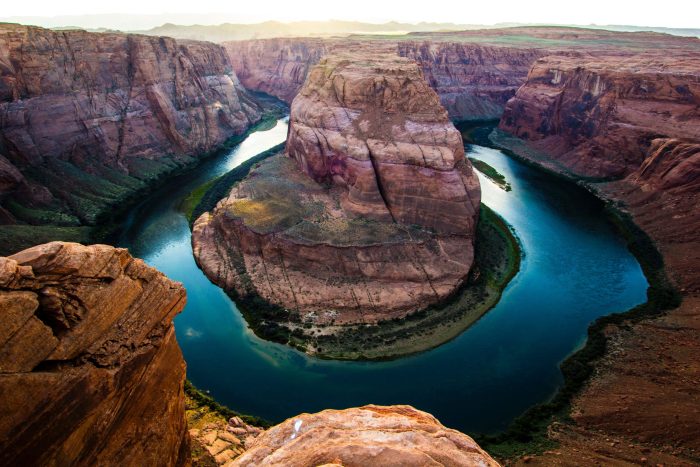 Visit one of the deepest gorges on Earth as you tour through Grand Canyon National Park in Arizona. The National Park Service provides walking tours of a hike to Phantom Ranch and a raft trip through the canyon.
10. The Nature Conservancy
The Nature Conservancy virtual tours allow you to explore the rainforest, deserts, renewable energy, and Hong Kong.
For a different, more self-guided type of virtual learning experience, The Nature Conservancy also offers a home nature lab curriculum for use with a variety of ages. These guides are perfect for a more self-guided homeschool science experience.
More Virtual Field Trips for You!
Several of our science courses have video tours in the curriculum. In our elementary astronomy course, we take virtual field trips to archaeological sites of famous places where astronomy was studied in ancient times: Babylon, Egypt, Mexico, Ireland, and Stonehenge. We also take a field trip of the entire solar system, with stops at each planet, the sun, and the asteroid belt!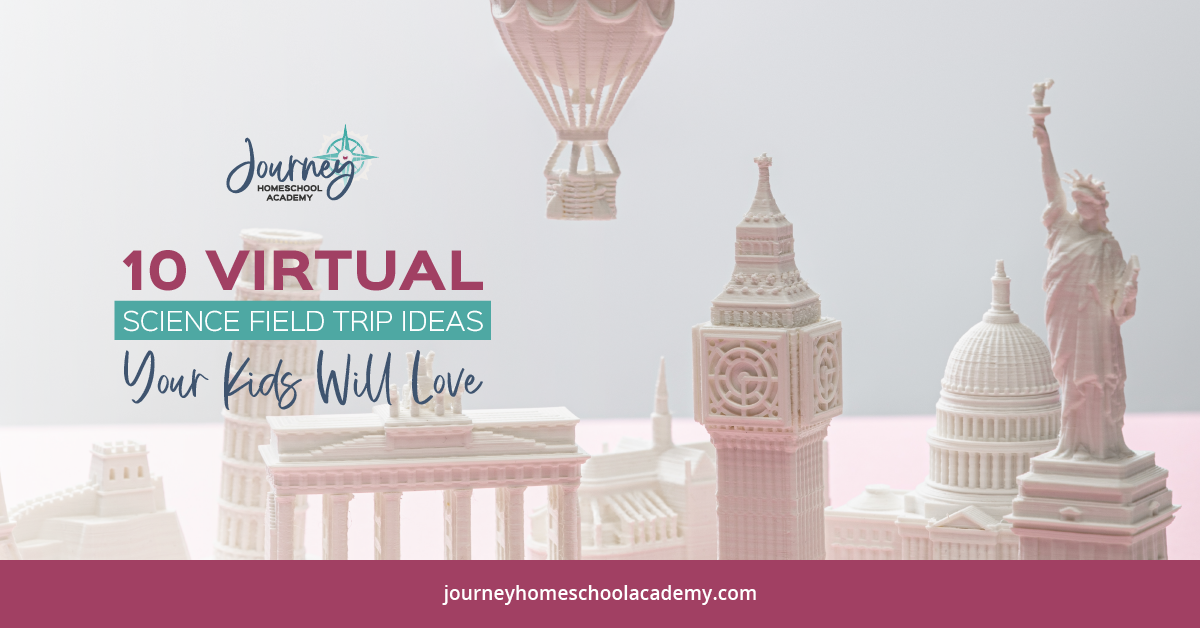 In our elementary Biology course, we visit the lab of Jan Baptiste Van Helmont to learn how trees grow and Alexander Fleming's lab, where he discovered a fungus that kills bacteria.
In our high school Biology course, we visit Mackinac Island and meet Dr. William Beaumont who discovered stomach acid, was responsible for much of food digestion (with the help of an unlikely soldier with a hole in his stomach). 
In our elementary Earth Science course students meet scientists each week from all over the globe!
Join the waitlist so you don't miss these exciting learning experiences!