Christopher Columbus is famous for "discovering" America in 1492 (and sailing the ocean blue).
He really didn't discover America, per se. The Russians, Chinese, and Vikings already knew about it—and, of course, the first people to the Americas were the native populations that had already been living there for thousands of years. (In many ways you might say Columbus was the last discoverer of America.)
Nonetheless, Christopher Columbus' discovery was an important event because it opened up Europe to exploring what was to them a brand new land.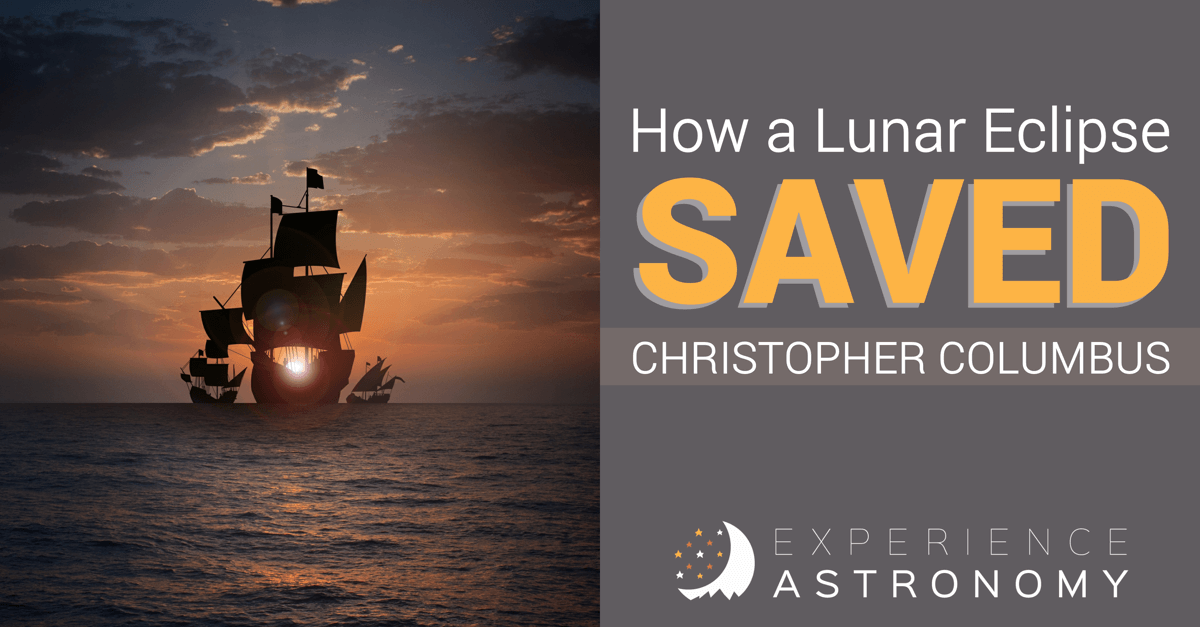 Between 1492 and 1503, Columbus completed four round-trip voyages to the Americas.
In 1502, after spending eight months exploring the coasts of Honduras, Nicaragua, Costa Rica, and Panama, Columbus beached in Jamaica at the end of June 1503. There, he and his men were stranded for one year. Since the governor of Hispaniola was not a fan of Columbus, he stopped any efforts to rescue him.
At first, the natives were hospitable to Columbus, but his sailors stole from and cheated the natives. Finally, after six months the natives stopped their food supply to Columbus and his men.
Columbus had one last trick up his sleeve. Columbus had an astronomy almanac by Abraham Zacuto. He noticed there was a lunar eclipse coming up on February 29, 1504. He met with the tribal leader and told him God was angry with native's treatment of Columbus. He said his God would put clear sign of his anger in the sky by making the full Moon appear "inflamed with wrath."
His trick worked.
When the natives saw the eclipse—on schedule, just as Columbus predicted—they ran from all directions to Columbus' ships with fresh provisions, begging him to pray to his God for protection. Columbus went to the cabin of his ship to "pray," timing the eclipse with his hourglass. Totality—the period of time when the moon is completely engulfed in Earth's shadow—was about to end, so Columbus emerged from his cabin and told them God had forgiven them. Just then the moon started to reappear and the natives were grateful.
They continued to care for his men for several more months until he was rescued.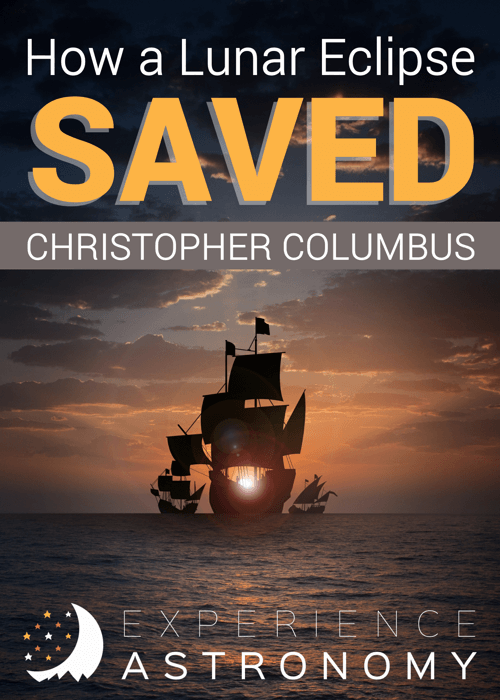 Your Kids Can Learn Astronomy!
If your child loves learning about things like eclipses, they will love Experience Astronomy.
We cover so much in these full-school-year online courses. Students learn about…
How to identify major constellations
Ways astronomy connects to fascinating stories in history, literature, folklore, archaeology, and the Bible
The amazing world of interstellar space—stars, galaxies, black holes, and exoplanets
How ancient people used astronomy to tell time, create calendars, and navigate the globe
Best yet: I do all the teaching for you through fun, engaging online videos and hands-on activities.